A card game meant to reflect the modification of species through natural selection, Evolution is played by assembling sets of up to three cards for each species that represents the traits they employ as they compete for the food they need to survive. Direct player interaction is limited – that is, until someone plays the Carnivore trait and starts hunting your species to extinction. With eighteen trait cards and a constantly changing field of play, Evolution promises to be a game with a great deal of flexibility.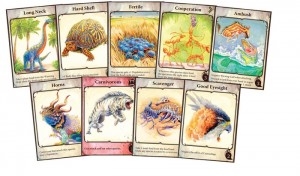 Evolution is the first strategy game produced by North Star Games, most famous for their party games like Wits and Wagers and Say Anything. Evolution blew away its goal of ten thousand dollars before the end of day one, and current pledges total nearly eight times that. This is a remarkably successful first step into the competitive strategy gaming market, and Evolution – as well as North Star Games – is definitely worth watching. You can get a copy of Evolution for a $50 pledge, with numerous levels of backing available.

 
We've sat down with a demo copy of Evolution, and discuss the game in the episode 28 of the BGA podcast. It will also be a feature review – alongside Dubious Alliance (for the interested, we have posted a written review of Dubious Alliance)  on the first episode of the new Kicking the Habit podcast. You can also expect a written review for Evolution this Friday. Keep tuned to get more information about how this campaign grows, changes, and – dare I say – evolves.
As always, if you have any comments, questions, or suggestions – kick them my way in the comments section.