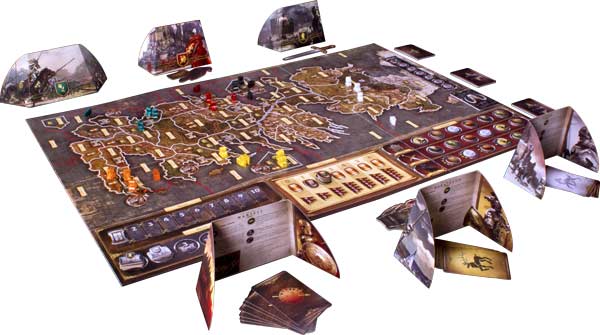 In A Game of Thrones: The Board Game, King Robert Baratheon is dead. Westeros has fallen into chaos, and the fate of the land rests in the hands of 6 players who will fill the shoes of the 7 Kingdoms' mightiest houses: Stark, Lannister, Baratheon, Arryn, Martell, Tyrell, and Tully. You either live or you die when you play the Game of Thrones. The stakes are high – will you end up sitting on the iron throne or will you be just another one of Westeros' sacrificial lambs?
When playing the board game, there are several things that players must micro-manage. First is the planning phase, a step during which players must choose which units to move. There are footmen, knights, siege engines, and ships. Then, there are orders that you can give to units such as support, defend, raid, and consolidate power. During the action phase, players move in order to conquer new territories, look for resources for the army to feed on, or form alliances with players in order to conquer a bigger foe. There are many factors that players must master in order to be successful, all of which can be learned through this YouTube tutorial.
Game of Thrones is the most popular show on TV today alongside the highly successful The Walking Dead. According to statistics, last year's season of Game of Thrones reached 20 million viewers, which is quite the achievement given the fact that the show has been running for six seasons now. Last year, when the season finale of Game of Thrones aired, it was reported that approximately 8.11 million households viewed the season end in U.S. alone.
Due to its sheer popularity, Game of Thrones sells its fair share of merchandise, so it's no wonder the board game has been so successful since its release. In addition to the board game, which has been around for several years, there is a popular Telltale PC game. Following that, several other offshoots of the brand have made it to the gaming world including the development of another Game of Thrones title in the form of a online slot machine game. It seems that there's no end to the Game of Thrones' game franchise because the two aforementioned games now have follow up versions. For the graphic adventure game, Telltale Games has confirmed that it's releasing a second season. For the slot game, there is now a variant of the "15 lines," which is the "243 ways to win." As for the tabletop game, it is in its second edition as well.