What a year for board games! Even with dozens of games still on boats or awaiting fulfillment, delayed out of 2021, there were dozens of incredible experience at our tables this year. To celebrate the year that was and discuss the best of the best, it's once again time for the 2021 Board Gamers Anonymous Awards.
The nominees are:
Best Digital Implementation:
Concordia Digital Edition (Acram Digital), Brass Birmingham, Gaia Project, Fox in the Forest
Best Family Game:
Cascadia, Overboss, The Adventures of Robin Hood, Living Forest (Ludonaute)
Best Economic Strategy Game:
Coffee Traders, Kanban EV, Carnegie, Brick and Mortar
Best Overlooked Gem:
Mini Express, Botanik, Khora: Rise of an Empire, Brick and Mortar
Best Kickstarter Campaign:
Root: The Marauder Expansion, Hegemony: Lead Your Class to Victory, On Mars: Alien Invasion, Clash of Decks
Best 2.0 Release:
Kemet: Blood and Sand, Kanban: EV, Terraforming Mars: Ares Expedition, Summoner Wars (Second Edition), Unfathomable
Best Solo Game:
Railroad Ink: Challenge, Final Girl, Imperium Classics, Cascadia, Rolling Realms
Best Expansion:
Lost Ruins of Arnak: Freebie + Expedition Leaders (CGE), Grand Austria Hotel: Let's Waltz!, Marvel Champions: The Galaxy's Most Wanted, Glen More II: Chronicles – Highland Games
Game of the Year:
Dominant Species: Marine (GMT), Cascadia, Praga Caput Regni, Terraforming Mars: Ares Expedition
Listen to the full Awards Ceremony on Episode 357 of the podcast here or view the winners below: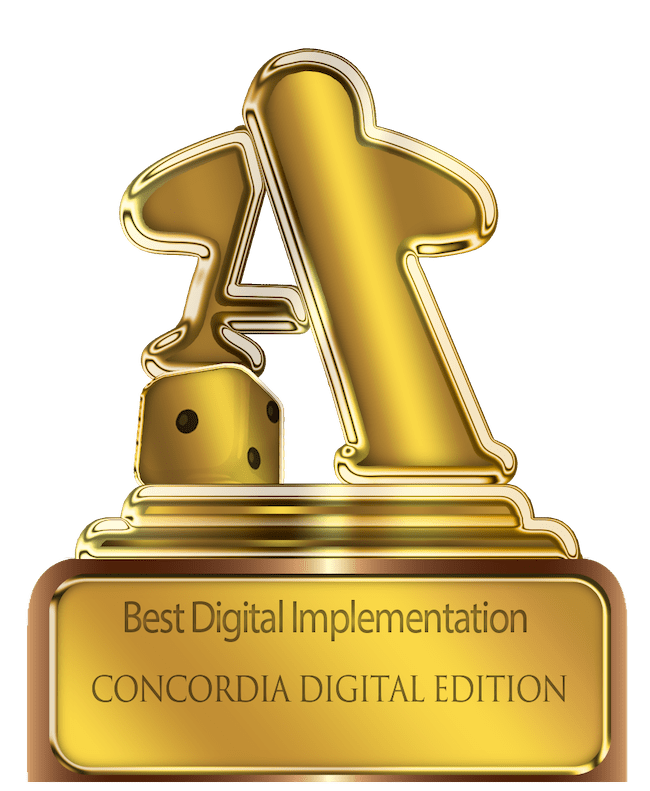 Best Digital Implementation: Concordia Digital Editiona (Acram Digital)
Concordia is one of our most played games of the last five years, a constant presence at the game table, and an always updating delight, with half a dozen maps and two big-box expansions already released ensuring infinite replayability. The digital version of the game from Acram Digital perfectly captures this with a scalable map, future expansion planned, and a seamless transition of the board game to digital format. In a year full of great digital implementations, Concordia Digital is the best.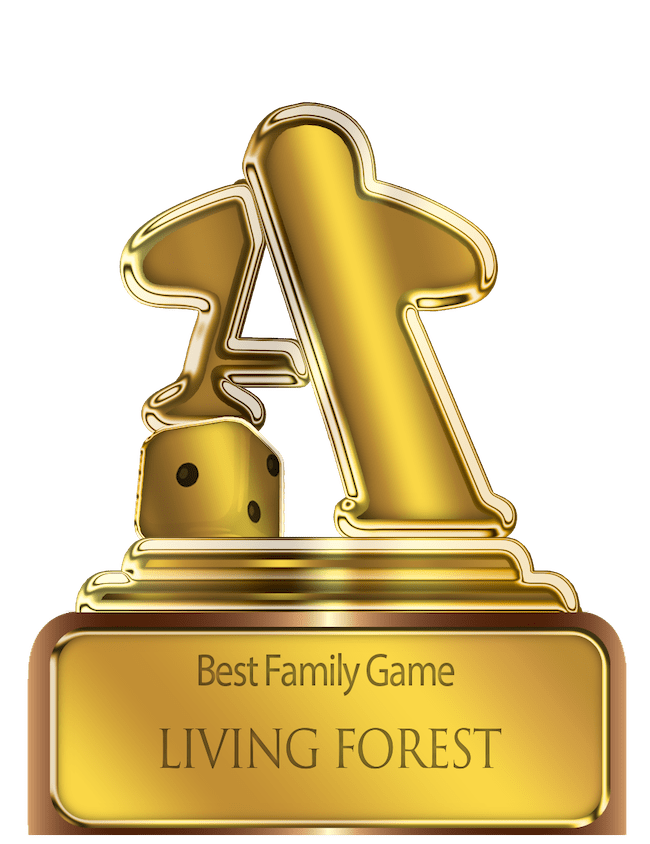 Best Family Game: Living Forest (Ludonaute)
Aske Christiansen's first board game, Living Forest, remixes several familiar mechanics in a family-friendly format with a lively, colorful theme and the perfect length. Utilizing the press-your-luck mechanic made famous in Mystic Vale, Living Forest tasks players with collecting points in their deck, building a forest out, and putting out fires before decks clog with useless cards. It's beautiful to look at, quick to play, and offers the perfect blend of easy to learn, depth in strategy for families.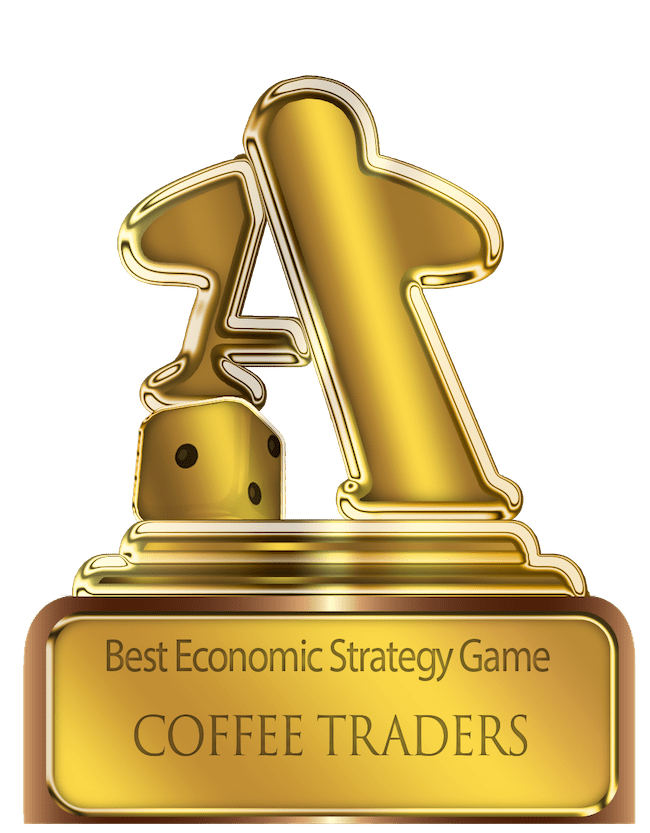 Best Economic Strategy Game: Coffee Traders (Capstone Games)
Coffee Traders, at first glance, looks like a lot. Rolf Sagel and Andre Spil bring out the big guns with a sprawling economic strategy game about free trade coffee development, growth, and sales around the globe. Sure there are a boat load of components, but a combination of effective graphic design, seamless rules, and carefully linked mechanics make for a smooth play that you'll want to keep coming back to.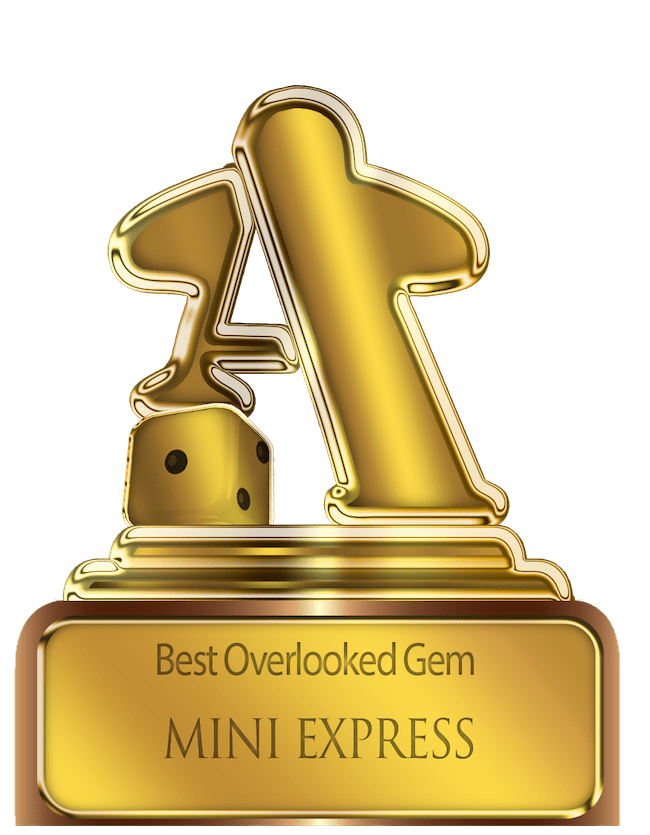 Best Overlooked Gem: Mini Express (Moaideas Game Design)
Cube rail games can be deceptive. Hex maps, stock certificates and lots of trains make people think of heavier games that ask a lot of their players. Mini Express is the perfect game to show that this isn't always the case. Mark Gerrits presents a 30-45 minute train game with high levels of replayability, a range of different mechanical options, and effective tweaks for all player counts and ages. If you have ever been interested in checking out cube rail games, this is the game to play.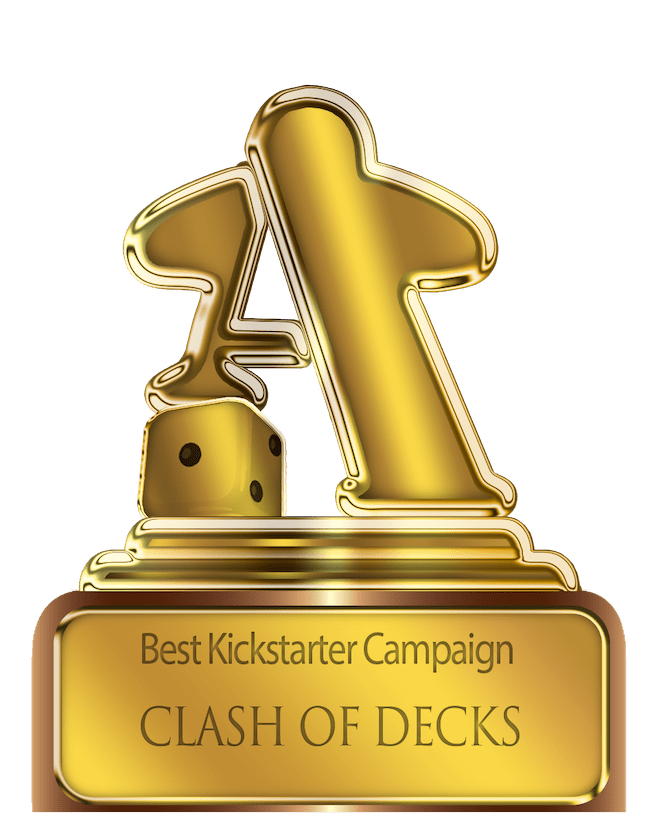 Best Kickstarter Campaign: Clash of Decks
Grammes Edition ran a novel Kickstarter campaign last year. Back the campaign for free, pay 2€ in shipping, and just a few months later, you received enough of Clash of Decks to play the game, get to know it, and decide whether to back the bigger, more content-rich campaign launching shortly afterward. It was a brilliant idea, and the subsequent campaign was equally accessible and not terribly expensive. In an age of exploitative, manipulative Kickstarter campaigns asking backers to shell out hundreds of dollars before they ever play the game (and sometimes before they read the rules), Clash of Decks and the other nominees on our list were a breath of fresh air this year.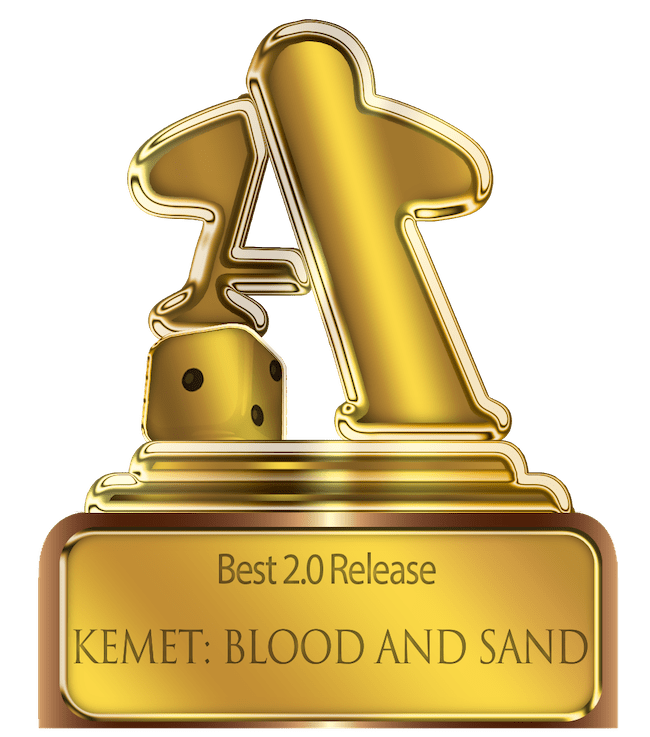 Best 2.0 Release: Kemet: Blood and Sand (Matagot)
Kemet is a modern classic, a clever take on the "dudes on a map" genre. Jacques Bariot and Guillaume Montiage's Egyptian mythology area control battler first came out in 2012 and was a direct precursor to a wave of others like Blood Rage, Rising Son, Lords of Hellas and more. Blood and Sand remixes that formula, streamlining rules, adding in mechanics from both expansions, and updating several elements, plus introducing new ideas in the Book of the Dead expansion. It's our best 2.0 release of the year.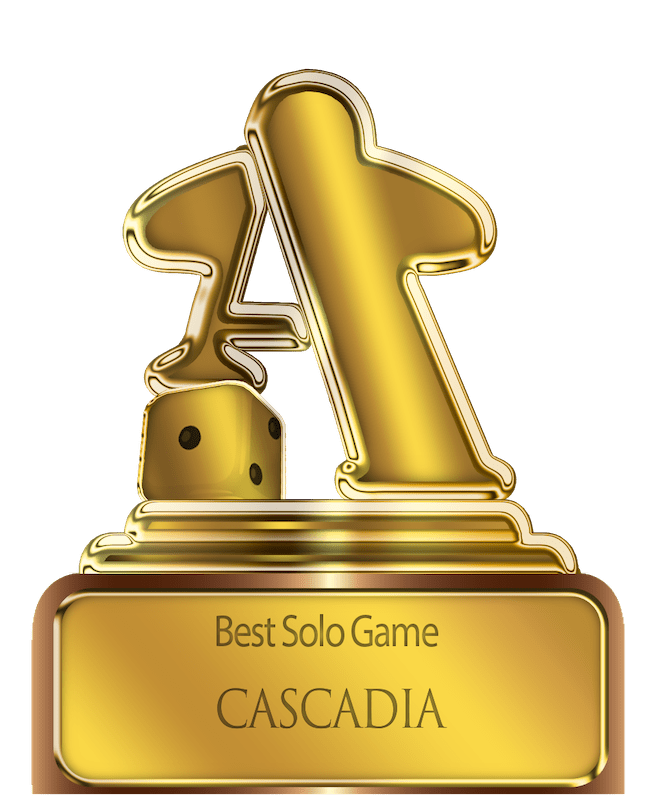 Best Solo Game: Cascadia (Flatout Games)
Randy Flynn's Cascadia, illustrated by Beth Sobel, depicts the natural beauty of the Pacific Northwest. Combined with its sublime abstract puzzle mechanics, Cascadia is a blast to play. While it sings with the full family, offering a number of scoring opportunities and simple, streamlined mechanics, it struck particularly hard for us as a solo puzzler. 15-20 minutes per play and different every time, Cascadia hits the table multiple times a week.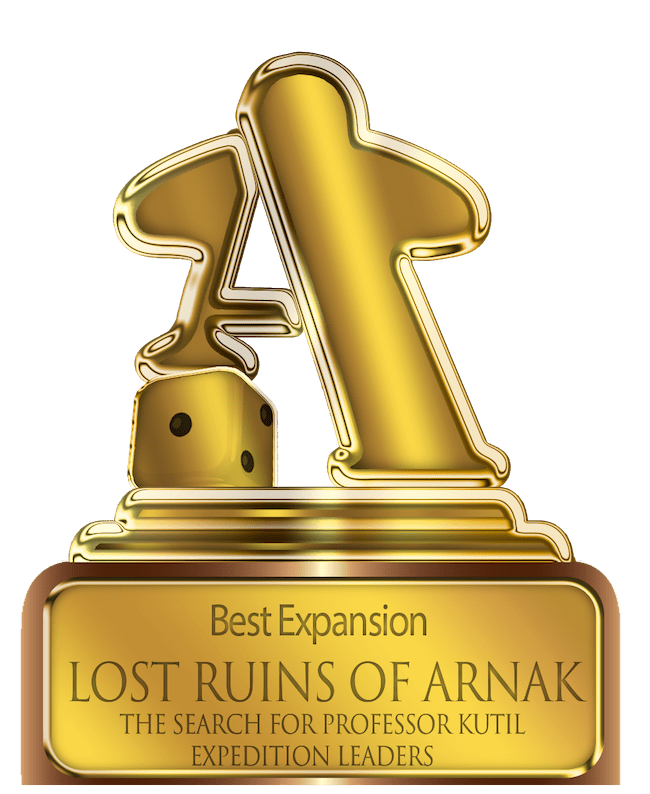 Best Expansion: Lost Ruins of Arnak The Search for Professor Kutil and Expedition Leaders (CGE)
One of the best games of 2020 got even better in 2021 with a pair of expansions. The first, a free PnP and digital release early in the year, offered a treasure trove of play for solo gamers. The second, released at the end of the year, offered variable player powers and tweaks to gameplay that extend what is already a brilliant worker placement/deck building puzzle into something more. This game continues to wow us and we look forward to playing it for many months to come in 2022.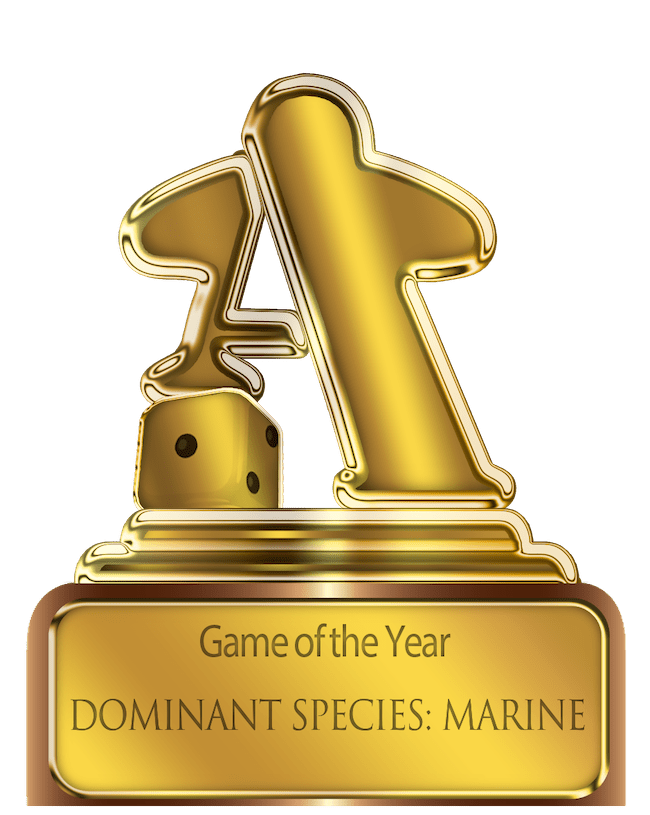 Game of the Year: Dominant Species Marine (GMT Games)
Chad Jensen's final game is also one of his best. Building on the brilliant mechanics of 2010's Dominant Species, Marine streamlines without oversimplifying, modernizes without diminishing, and does what we always wanted—bringing the game to the table more often. Dominant Species: Marine is the best game we played in 2021 and will be a mainstay on our shelves for years to come.