Part of the new Kicking the Habit spin-off, the campaign of the day features one Kickstarter campaign related to tabletop gaming every weekday. These campaigns are ones that I think are worth taking the time to look at, but the campaigns of the day are not full reviews (which I only do once I have had a chance to thoroughly play a copy of the game). Some will be campaigns backed by big companies (like Ares Games's massively successful 'Galaxy Defenders – The Earth Strikes Back'), while others – like our first campaign of the day, 'Dubious Alliance' – will be indie games through and through.
Our first campaign of the day is the indie game Dubious Alliance.  Dubious Alliance is a fantasy RPG themed bluffing card game where players take the role of members of a Band of Orcs (an in-game representation of a real-world monster metal band) as they compete for prestige while cooperating just enough to survive. Play centers around a bluffing mechanic where players trade unrevealed cards with one another that effect each character's survival and prestige score. If any character's survival is reduced to zero, that's game over – the whole party loses. However, don't play too nice, because the first one to meet their character's prestige goal wins the game.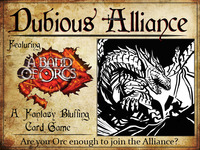 Dubious Alliance is designed and produced by Brandon Raasch, and is an independent game from design to distribution. Brandon has been remarkably successful in launching his game, and Dubious Alliance's Kickstarter campaign – currently sitting at over three times its initial goal – was completely funded within twelve hours. Current stretch goals focus on expanding the number of cards and improving the quality of the packaging. The basic level of backing is twenty dollars, which gets you a complete copy of the game – one hundred and twenty one cards plus a few more added by stretch goals.  At the highest pledge level (IMMORcTALITY, $180), you can even add a player character card based on your image to the game, so everyone knows how much of an orc you are.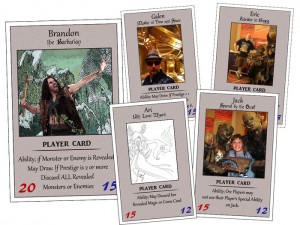 We had a chance to play a round of Dubious Alliance, and they will be a written review of this game up tomorrow to help you make your decision about backing this project. This game will also be featured on our first episode of the Kicking the Habit podcast, alongside an interview with the game's designer – Brandon Raasch – which should be available on Thursday (2014-06-03). We'll have plenty of information coming out about this noteworthy campaign in the next few days, so stay tuned.
As always, if you have questions, comments, or suggestions – kick it on over to me in the comment sections.