In August of last year, Fantasy Flight announced what seemed like a risky proposition in the modern board gaming climate. A new collectible card game, albeit in the Star Wars universe, and with big chunky dice.
Turns out they had nothing to worry about, because this game has been a raging success, so much so that it dragged me back into the dark and murky depths of CCG collecting, and along with it the challenges of deck building and storage of all that stuff.
Which is why I was so intrigued when Zen Bins reached out to us with their newest game storage solution – Zen Bins for Destiny.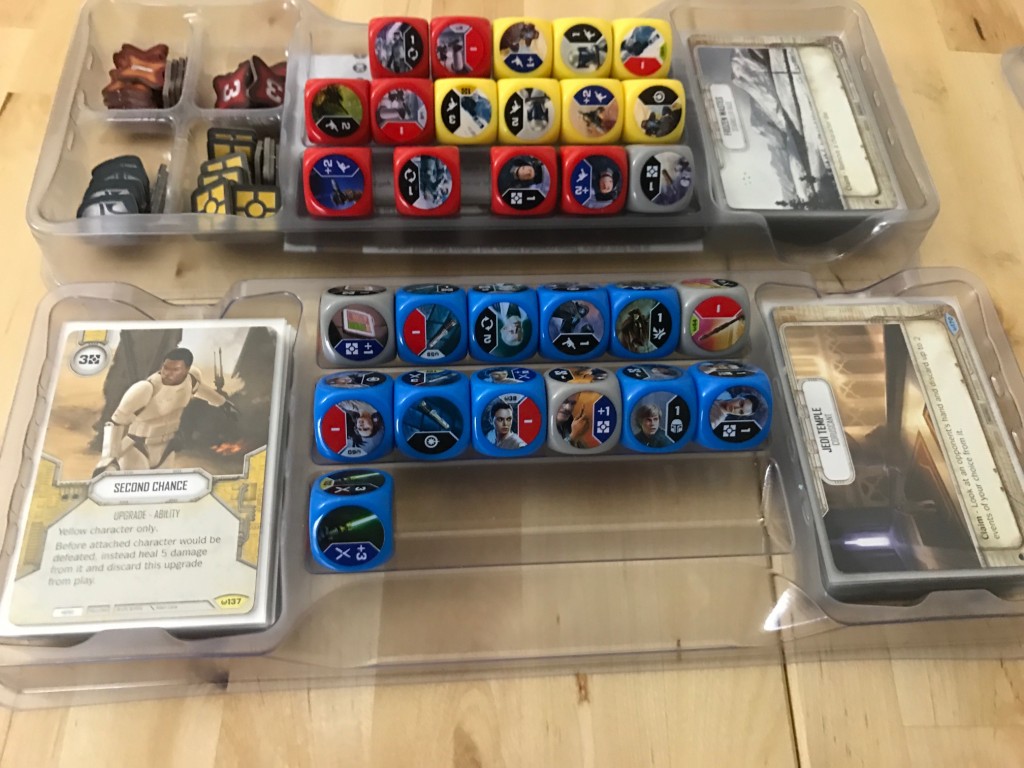 The team at Zen Bins was kind enough to provide a set of the trays for our review – something I happily volunteered to give a test drive with my sizable and growing Destiny collection.
The Trays
There are several parts to a single tray set. In the set I received, there is a base, two card and dice trays, a blinder, and a cover for the whole lot. In total, this means space for about 135 cards and 54 dice, plus a couple sets of tokens and a folded-up rule book. Basically, everything you'd need for a Saturday evening at your FLGS playing Destiny. I'm not a tournament guy, but I can't imagine needing that much more than this even for some deck tweaking and adjustment mid-tourney.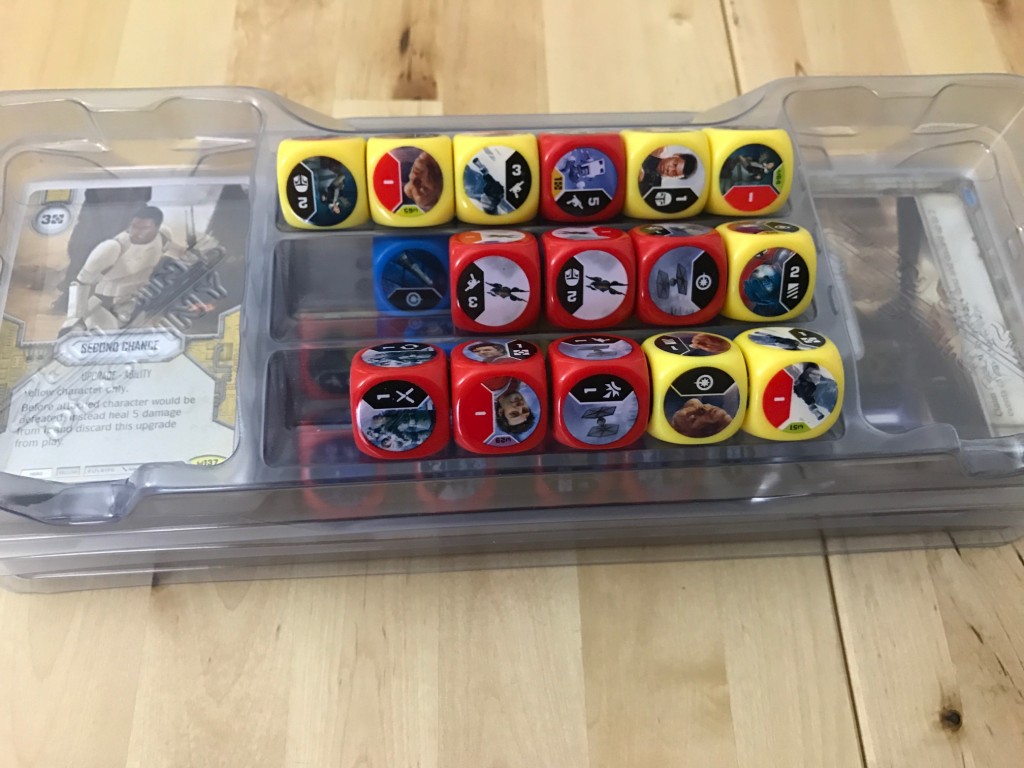 So how do the trays hold up? Each is a solid piece of plastic and very sturdy, which is good because the last thing you'd want is someone to accidentally step on one and crush everything inside. The trays interlock with one another, snapping into place so you have a single brick to carry with you, each die snuggling locked in place and cards in their trays. There is ample room for sleeves on your cards, and plenty of room in the base for your tokens and bits, even if you've upgraded them to wood or acrylic.
Pulling trays apart to access the dice inside is quick and easy too, and you can set up your tray during play to hold everything neatly. In fact, the blinder makes it easy to hide your dice from opponents during tournament play and keep your deck contents under wraps.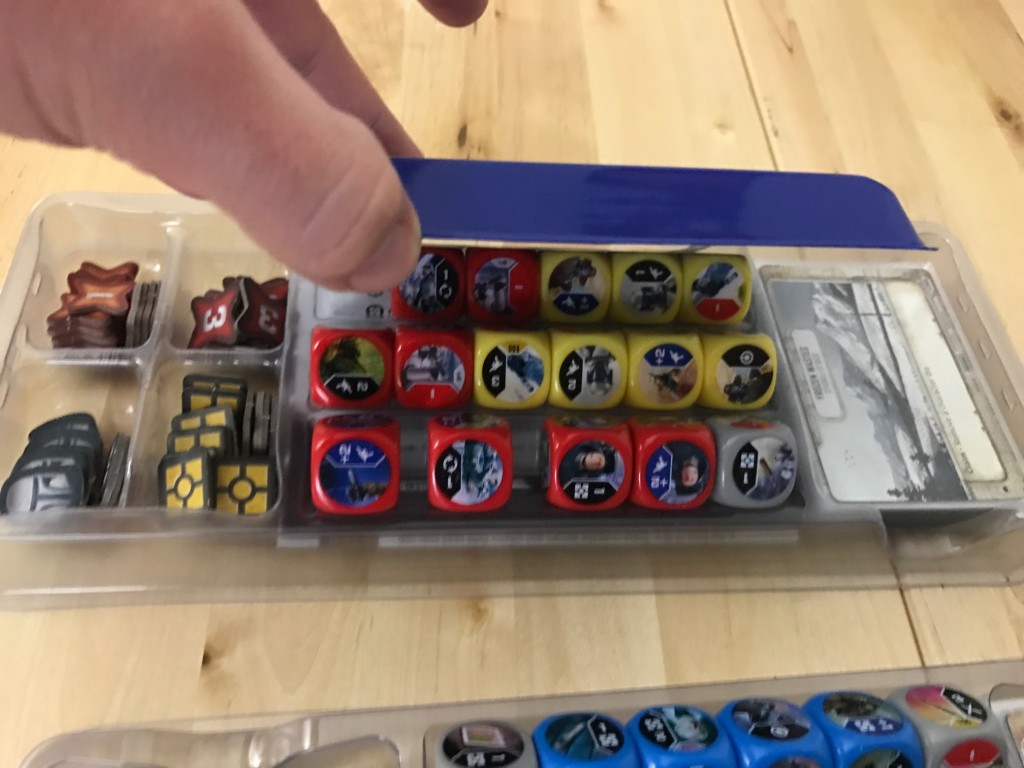 The Bottom Line
I haven't seriously collected a CCG since Decipher's Star Wars game almost twenty years ago, and before that MTG. In between I've dabbled in others, and seriously considered going down the Dice Master rabbit hole before the deluge of dice got the better of me.
Destiny has managed to capture that attention in a way that none of these other games have in a long time, but the lack of a sturdy, and most importantly, affordable storage solution threatened to derail that excitement.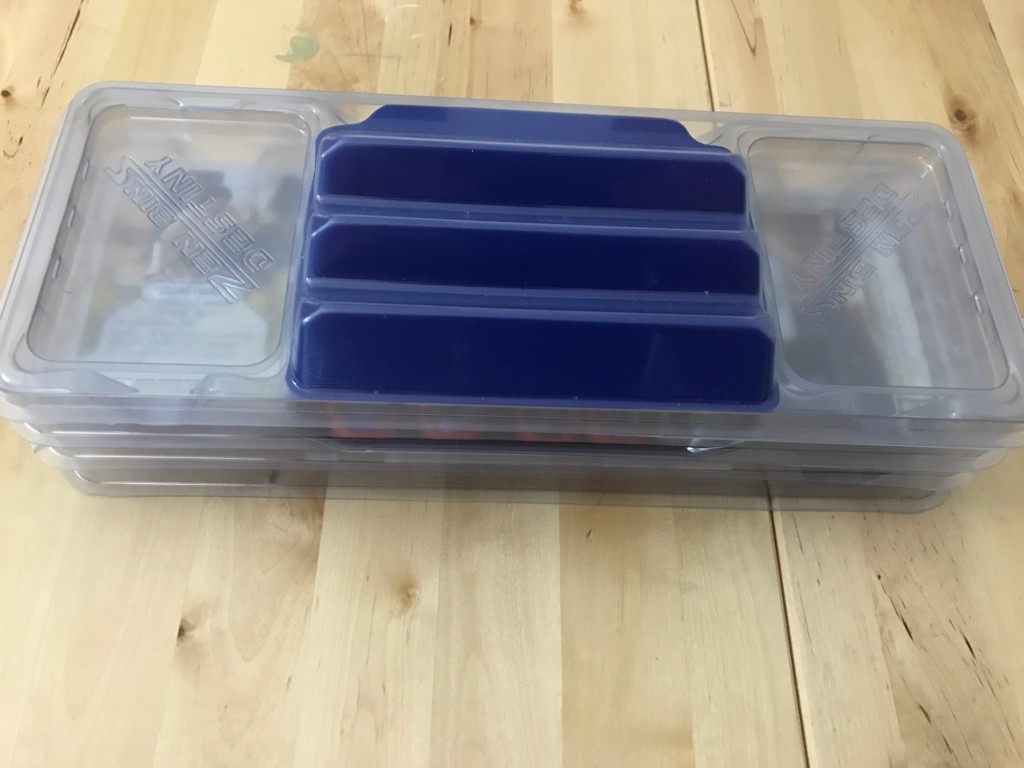 Zen Bins are a nice in between option – with the ability to easily carry and store dice for an affordable price.
A couple things to keep in mind soon – Zen Bins has indicated that they may be expanding to include a new dice-only tray for storage purposes. For those that only want to put their active pools and decks into the card and dice trays, this is a great way to keep your other dice in storage, especially as the card pool grows with 2 new expansions per year. In just a year or two, we could easily have 400-500 dice lying around. Some form of simple storage is going to be a necessity to avoid them getting chipped, scratched, lost, or just buried in another box somewhere.
Verdict
If you are already collecting Destiny, Zen Bins are a must. There are some other storage solutions out there – several wood carved, some cardboard, and a few homemade (with liberal use of foam core. This is the easiest and fastest way to not only store those ridiculously oversized dice, but to keep everything safe and portable. Seriously, I had these things wedged into a plano box and several deck boxes before moving over to these and the difference is significant.
This is definitely worth backing for anyone with more than the starter kits for Destiny.
Disclaimer: Zen Bins sent us a copy of the base level of Destiny Zen Bins for the purposes of this review.